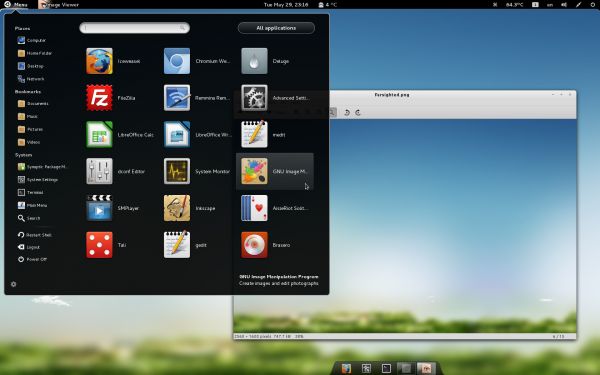 Big and beautiful menu for gnome-shell 3.2 and 3.4 :)
Install from extensions.gnome.org or
Download (v0.8.3)
.tar.gz — 61 kb
or use this script:
#!/bin/bash
wget -c -O axemenu-gnome-shell.tar.gz http://k210.org/axemenu/last/
tar xvfz axemenu-gnome-shell.tar.gz -C $HOME/.local/share/gnome-shell/extensions/
Control:
Right click on the menu to open settings manager.
Left click to open the menu >> start typing right away to search for what you're looking for >> press Enter to open the first search result.
Press "Tab" on your keyboard to switch between Favorites and All applications.
The bold and underlined texts are your favorites.
To add an app to favorites, hover that app, right click. A box will appear, click Yes to confirm.
To remove an app from favorite, hover that app (the bold and underlined ones), right click. A box will appear, click Yes to confirm.
The menu is bound to "SuperR" button. See README for details.
Thanks:
For the Italian translation thanks to Giuseppe Palmiotto
For the French translation thanks to .:: CouDu ::.
For the Portuguese (Brazil) thanks to Bruno Magalhães
For the German thanks to Rüdiger
For the Arabic thanks to Hannysabbagh
For the Turkish thanks to Eren Doğuş Ateş
For the Spanish thanks to Antonio Trujillo
For the Chinese thanks to 杜宏羽
For the Hebrew thanks to Ami Geva
For the Bahasa Indonesia thanks to Sahri Riza Umami
For the Japanese thanks to Nishio Futoshi
For the Polish thanks to Mateusz Szostak
For the Greek thanks to giotis
For the Catalan thanks to David Soms
For the Dutch thanks to Rob van den Berg
For the Czech thanks to Pavel Sieder
For the Finnish thanks to Juhani Numminen
Like it?